(September 3, 2020, Shenzhen, China) Urovo Tech (stock code: 300531), a leading industry application solution provider in the global market, officially announced the signing of a strategic partnership agreement with the Inspur Group.
On August 25, Urovo Tech and the Inspur Group celebrated a strategic partnership signing ceremony and officially announced that they have forged a vital partnership. The signing ceremony was held at Urovo Tech's Shenzhen headquarters. Urovo Tech extended a warm welcome to the Inspur Group and its delegation.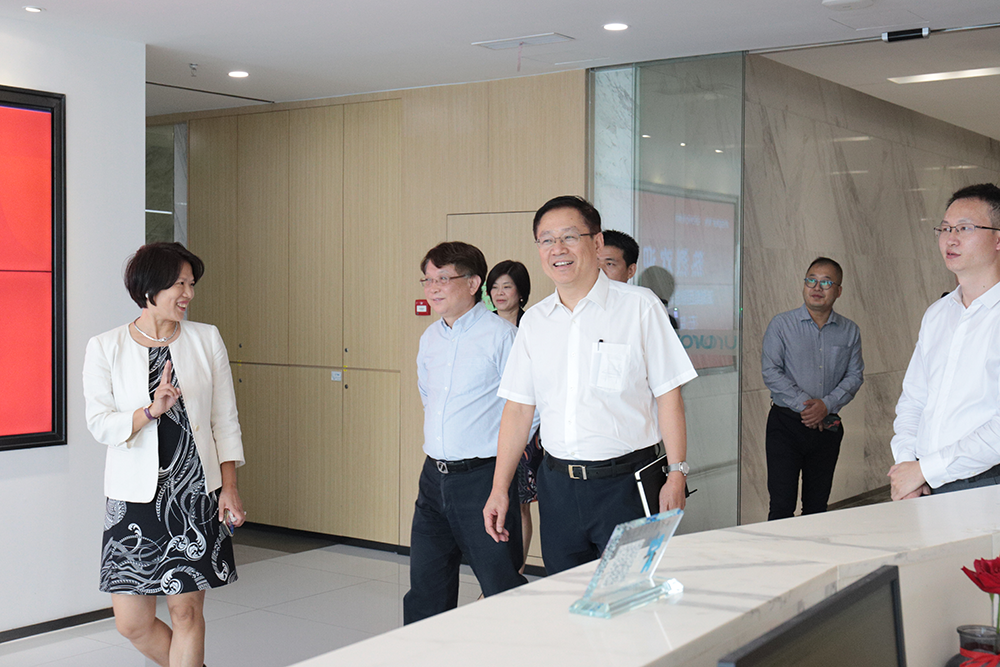 Distinguished Guests Visit Urovo Tech's Shenzhen Headquarters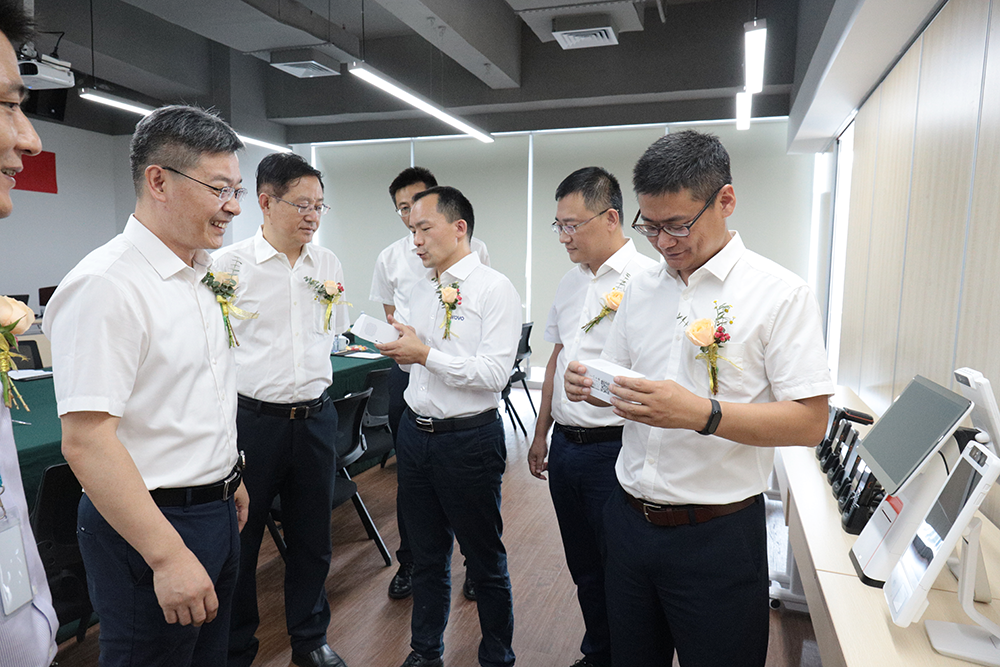 Urovo Tech Introduces Its Products to Distinguished Guests
At the signing ceremony, Mr. Guo Song (as Chairman of Urovo Tech) and Mr. Sun Chengtong (as Vice President of the Inspur Group) delivered speeches. Mr. Guo said that Inspur and Urovo Tech are both excellent and advanced companies. Despite the severe international landscape this year, new industries and new opportunities have emerged. As long as we march forward hand in hand, we will be able to ride out the storm with our respective brilliant performances.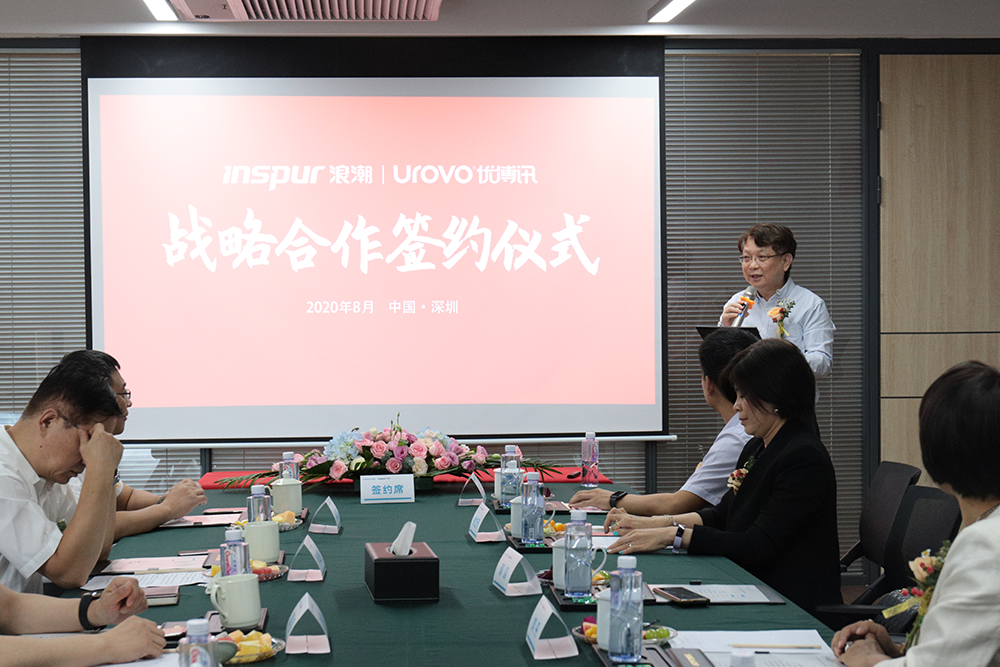 Statement by Mr. Guo Song Chairman of Urovo Tech
Mr. Sun Chengtong, vice president of Inspur Group, said in his speech that this agreement coincides with the 40th anniversary of Shenzhen's establishment as a city in the forefront of economic reform, which is of great significance to both parties. Inspur pursues an ecological strategy to develop the IT industry with its partners, and Urovo Tech provides products that are highly complementary to Inspur, which is expected to be a very good ecological partner in the future.
Statement by Mr. Sun Chengtong, Vice President of the Inspur Group
The Inspur Group, an IT powerhouse with strong local comprehensive strength in China, is a leading service provider focused on cloud computing and big data in China. Its business covers four major business segments, namely, cloud data center, cloud service big data, smart city, and smart enterprise. The Inspur Group's IT products and services are available in more than 120 countries and regions, satisfying the informatization needs of governments and enterprises in various aspects. Urovo Tech, a national high-tech enterprise and a listed company on the Shenzhen Stock Exchange, has always focused on mobile smart data terminals, mobile smart payment terminals, and other mobile application devices, as well as the research and development, production, sales, and service of comprehensive solutions. It is an industrial pioneer and global market leader in the mobile smart application solutions. This strategic partnership agreement represents that Urovo Tech and the Inspur Group will forge a long-term strategic partnership, allowing them to explore opportunities for their respective business segments and industrial advantages, while engaging in extensive exchanges and collaboration in all aspects and various areas.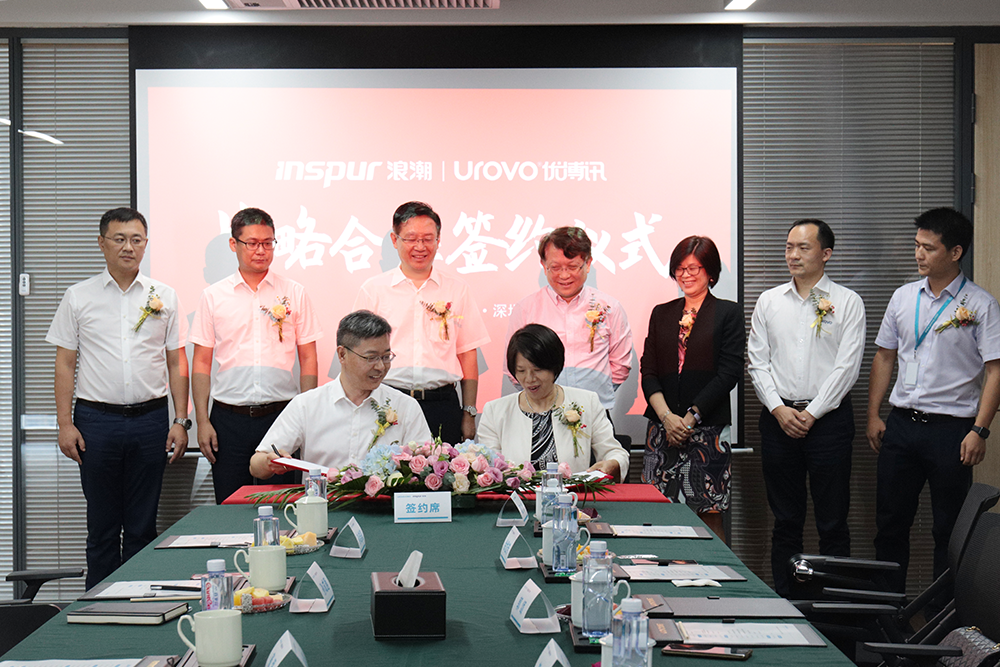 Signing Parties and Witnesses
Both parties will give full play to their advantages in products, solutions, and customer resources based on the principles of equality, mutual benefits, and common interests. Urovo Tech is responsible for providing self-developed products, such as PDAs, POS devices, special printers, and other smart terminal products. Inspur is responsible for integrating solutions with Urovo Tech and promoting these solutions to premium customers, displaying their prowess in various smart construction projects across the country.
A Photo of Urovo Tech and the Inspur Group
Looking into the future, the two parties will gradually push their strategic partnership forward to new heights and greater depths so that mutual advancement and benefits can be achieved. A promising future awaits them.